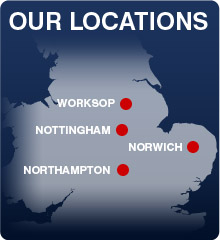 As the name suggest, we sell tyres at wholesale prices to the fast fit industry, garages and motor dealerships.
Our strategically situated regional distribution centres in Nottingham, Norwich, Northampton and Worksop are able to offer daily or multiple daily deliveries, with a 'rapid response' on-demand service in selected areas.
However we are much more than just a tyre wholesaler - we are your tyre partners dedicated to supplying you with the best possible wholesale tyre experience. Providing the tyres you want at the price you want and when you want them is just the start. We invite you to use our buying power, resources, experienced staff and exceptional service to support your business and develop your profits. We will literally 'bend over backwards' to meet your requirements.
We stock over 200,000 tyres at any one time, specialising in high performance car tyres.

Grouptyre are the biggest wholesalers of tyres in the country, offering a comprehensive one stop shop for tyre retailers.
Our offering is based on three core principles of product availability, an unrivalled delivery service and competitive pricing, supported by hands-on technical and sales training; ongoing support from major tyre manufacturers.
We can supply you with a comprehensive range of tyre
fitting and balancing
machinery

© 2016 WST We Sell Tyres (Wholesale) *PLEASE NOTE: Calls made to our call centre are recorded for training and monitoring purposes